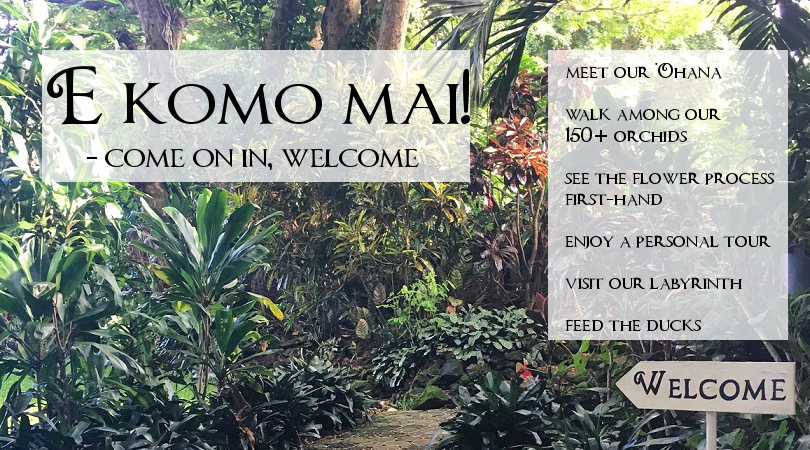 Hana Tropicals is more than a Tropical Flower Farm. Stop by during your visit to Hana, Maui to have a tour of the farm, see our kiosk filled with handmade gifts and souvenirs, visit with our animals, and meet the team that puts together tropical flower arrangements every day! We are open from 10 a.m. to 4 p.m. every day.
Tours
Tours of our Tropical Flower Farm are offered on a rolling basis during our business hours (10 a.m. to 4 p.m. daily). When you stop by our farm, you will be greeted by one of our team members for a personal 15 minute tour of our farm and orchid nursery.
15 minute Hana Tropicals Tour Itinerary
Warehouse
-See our warehouse where flowers are hand washed in our wash tanks, cut and arranged into various types of arrangements.
-Walk through where our flowers are gift wrapped and boxed with aloha and care to arrive on your doorstep two days later.
Orchid Nursery
-Visit our touch bucket and have one of our team members show you a few of our favorite flowers hand picked that morning! You'll be able to feel the fuzziness of the heliconia, smell the famous red ginger scent and see how the rattlesnake ginger is the flower form of a snake!
-Get close and personal with our wide variety of orchids. Take pictures of your favorite orchid and smell the chocolate orchid.
Kiosk
-The tour finishes with a visit to our kiosk filled with handmade local gifts and souvenirs, including local food items, our very own honey, hand salve and samples of our organically grown Moringa tea.
-Visit with our ducks, geese and goats if your group is interested! Anyone can feed our frisky goats, Trio, Caroline, Roxanne and Luna, and get a close up look at our ducks and chickens as they actively hunt for bugs, or relax in the sand.
We look forward to showing you our little slice of Hawaiian paradise!